Diverse Membership by Sister Maria Sheila Undang, O. Carm.
somcAdmin
June 21, 2016
Comments Off

on Diverse Membership by Sister Maria Sheila Undang, O. Carm.
comments
"To love one another means: to uphold one another, to help one another, to esteem one another, to make one another happy, to look after one another, to please one another, to sustain one another, to lead one another to heaven."
— St. Therese Chevrel's Book of Advice to Sr. St. John Lefrais, 1879
These words of our mother foundress have always inspired me and they continue to speak to me. For decades now we have been confronted with the different stages of transformation that religious life has undergone. Carol Zinn, SSJ, in her keynote address at the 2015 conference of the Resource Center for Religious Institutes, stated,"Religious life is a radical response to the Gospel in a particular history and culture. When history and culture change so does the life." It is very important for us to know the history of religious life and the culture to which we belong. As the lifeform undergoes transformation, a new form of religious life emerges. One aspect of religious life that has emerged and is undergoing transformation is shown in the cultural diversity among members of religious congregations. In a community with diverse membership you are not only dealing with cultural diversity, but also with different generations of religious life. Cultural diversity challenges us to move beyond our own comfort zones. It teaches us to be constantly mindful of the presence of the other, and it enriches us in our community living. We are also enriched in our spiritual diversity which gives us the opportunity to experience the rituals of other cultures. The reality of language barriers can sometimes create tensions and misunderstandings, but it also teaches us to be open and to develop our capacity to listen and to speak from and through our hearts, when words fail us. Living in a community with diverse cultures is very challenging, yet life-giving and rewarding. It gives us a more global perspective and enriches our community life. If we can truly love one another then the challenges of diversity can be more easily faced in the daily rubs of community living. Let us love one another, then the lines of diversity will gradually fade and our communities will become more life-giving.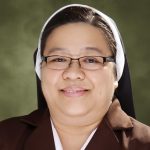 Sister Maria Sheila serves as the assistant to the president of her congregation in New Orleans, Louisiana.