OUR PROGRAMS
At Cub Corner, our programs are designed to foster each child's development socially, emotionally, developmentally, and spiritually.
Infants
We understand that entrusting your infant to our care is a privilege and we take that responsibility very seriously. Our teachers and staff are nurturing, loving professionals trained in health and safety and are concerned about all aspects of your child's development. With a teacher to student ratio of one to four, we are well under the state mandated guidelines. By limiting the number of infants in our nursery to 12, we can provide each child with the opportunity to develop at his or her own pace.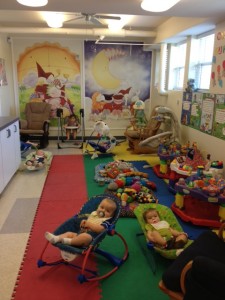 Through the use of age-appropriate toys and materials, our loving staff will guide your child through this important early stage of development. We encourage Moms and Dads to visit during the day, whether to feed their baby or simply to play with them. We strive to set the child's schedule to remain consistent with their parents' schedule at home.
1 year-old class
Our 1 year old curriculum focuses on the basic principles of early childhood development: cognitive, language, motor and social skills. Teachers plan fun days filled with reading, art, music, movement, and outdoor play. There is also quiet time for books and puzzles. Utilizing age-appropriate toys like large knobbed puzzles and shape sorters, our teachers create a fun environment for your child to manipulate, explore and learn through discovery.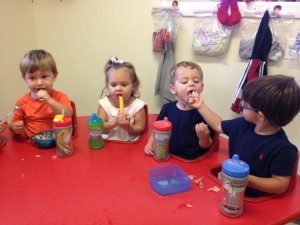 2 year-old class
Children are interested in the world around them and learn by observation, exploration and play. Our stimulating program encourages children to develop their minds and bodies in a safe and healthy environment. Your child will build skills and confidence through games, songs, stories, movement and art. Teachers plan monthly programs that focus on shapes, colors, numbers and nursery rhymes – all of which develops their large motor and social skills.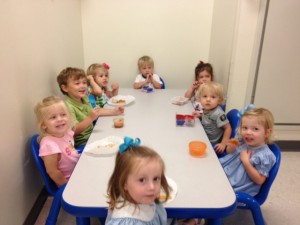 Children have the option to take a dance class once a week with a professional dance teacher. We work with parents to help toilet train your child, fostering independence and self-confidence. Your child also needs to be stimulated through daily active play, so outdoor play is scheduled twice a day on our age-appropriate playground.
3 year-old class
Our 3 year old program is specifically designed to prepare your child for Pre-Kindergarten. We offer special learning centers where children get "hands on" experience with art, music, books and age-appropriate toys. Our classrooms are filled with primary colors and activities for your child to manipulate, explore, play with and share. With an emphasis on letters, numbers, shapes, colors, language, writing and reading skills, your child will be well prepared for Pre-Kindergarten.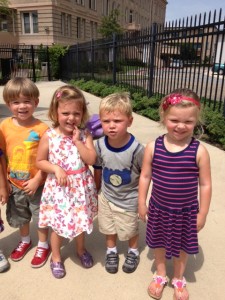 Our 3 year olds attend a religion class weekly and on occasion, receive a visit from Sr. Joan for an introductory Spanish lesson. Parents can opt to put their child in a weekly dance class with a professional dance instructor, as well as a computer class for an additional fee.*
Cub Corner Preschool embraces cultural diversity and all religious faiths.
*Extra curricular classes are subject to change.