Identity and Charism – Who we are?
The Congregation of Our Lady of Mount Carmel, commonly called Sisters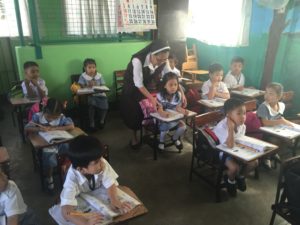 of Mount Carmel, is a Pontifical congregation of Carmelite women who minister in apostolic service in the United States and in the Philippines. We belong to the Carmelite family and follow the Rule of St. Albert. Our Generalate or Administrative Offices are located in Lacombe, Louisiana. Our Motherhouse in the United States is located in New Orleans, Louisiana; a Regional House is located in Quezon City, Philippines. Our historical roots began in France in 1824 and the Congregation was founded in New Orleans in 1833.
Albert's rule specifies only one work: a life of continual prayer. Carmelite prayer, a living in the presence of a loving God, is the beginning and end of zeal to discover, proclaim, and incarnate God's love. The special charism of the congregation is an orientation to a life of prayer and of service, in union with Jesus, in whom continual prayer and action coexist harmoniously.
Like our foundress, Julie Thérèse Chevrel, we strive to bring a Carmelite presence to the needs of the times. Each of us is missioned in the name of the congregation to minister in particular works of charity… in Christian education and in pastoral, social, and health care services. [from Constitutions, chap. 1 "Identity", art. 1-4]