"The gift we have received, give as gift." (Mt.10:8)
Every gift, regardless of amount, helps us sustain and enhance our lives of ministry, prayer, and community. The shared resources of donors are gifts that help support the lives and ministries of the Sisters of Mount Carmel through their Development Office. You may specify where you would like your donations to go :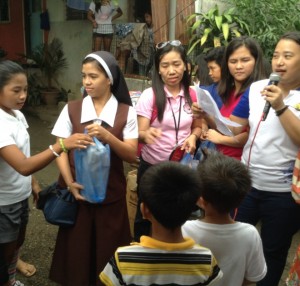 Retired Sisters' Care
Where the Sisters have the greatest needs
Your donation can be made in the following ways:
Give a Gift
Donations can be made by check, cash, donate online, or wire transfer payable to:
Congregation of Our Lady of Mount Carmel
P.O. Box 1160
Lacombe, LA 70445-1160
Please note that any single gift of $250.00 and greater is tax deductible under the Congregation's 501(c)3 status. Official documentation will be sent to you for your tax purposes.
Matching Gift
Many companies match employees' charitable contributions which is a wonderful opportunity to increase your gift. You must obtain forms from your participating employer.
Gift In memory/In honor of
A remembrance is a meaningful and reflective way to hold in memory a special individual or to honor someone on a significant occasion. Your gift will be acknowledged by a card sent to the family or to the individual being remembered. A Mass is offered monthly at the chapel of the Sisters of Mount Carmel for those enrolled. Click here to download a novena slip. Special occasion cards might include birthdays, Mother's and Father's Days, Christmas, Easter, or special recognition. Click here to download printable form
Continued Giving
Remembering the Sisters of Mount Carmel in your will is a way to continue to share in the ministries and prayers of the Sisters. Your gift will be administered wisely in the service of the Sisters of Mount Carmel and their ministries. Other gifts can include trusts, life insurance policies, properties, stock or other securities.
The Sisters of Mount Carmel are most grateful for your generous support.
It is our prayer that your generosity will be blessed through the intercession of Our Lady of Mount Carmel.