Sisters of Mount Carmel Found a New Mission in Timor-Leste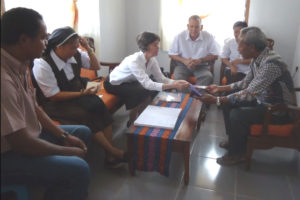 At the 34th General Chapter in January 2009, the delegates of the Sisters of Mount Carmel voted to explore the possibility of expansion in Asia. In October, Sisters Mailyn Batocabe and Carlita Panaligan, from the Philippines Region, visited Dili and Zumalai to ascertain the possibility of establishing a new mission. With the support of the Australian Carmelite Friars, the warm welcome of the people, it seemed like a real possibility. In May 2012, a group of Sisters returned to Dili and Zumalai and met with the Bishop of the Diocese of Maliana, Timor-Leste, who was most anxious to welcome us.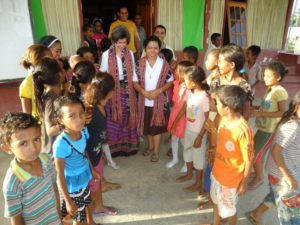 At the 35th General Chapter in January 2013, the delegates voted to establish a new mission in Timor-Leste. At the Philippine Regional Assembly in April 2013, the congregation voted to send two sisters to Timor-Leste in thanksgiving for their 50 years in the Philippines. The sisters in the USA would provide prayerful and financial support.
They drafted a mission and vision statement as well as objectives of the new mission. In July 2013, the Philippine Region held a departure ceremony for Sisters Mailyn Batocabe and Remedios Natonton. Sisters in the USA prayed the departure prayers in powerful support. The ceremony was adapted from the Departure Ceremony of Mother Marcella Foret and Sister Carmelita Danos' departure to the Philippines in 1962, found in the congregation archives.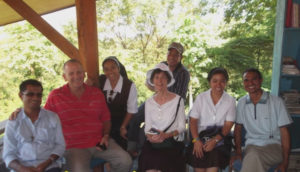 Sisters Mailyn and Remy arrived in Dili and attended the DIT Language School to learn the Tetum language, the official language, along with East-Timor Portuguese are the official languages. In August 2013, they moved to Zumalai to await the completion of the new convent in Beilaco, Timor-Leste, a village in Zumalai. The convent was a support gift of the Australian Carmelite Friars and Our Lady of Mount Carmel Parish in Zumalai. Nearby villagers also contributed money as well as construction skills, donating their time and services to help make our new missionary endeavor become a reality.
On her deathbed Mother St. Paul Bazire, our foundress in France said to Sister Thérèse Chevrel, who was to become our foundress in the USA, "Carmel will live in another country. God will use you, you will cross the sea and it (Carmel) will not perish." These prophetic words are true once again and they give us the courage and hope for the future of Carmel as we continue to spread Carmelite Spirituality throughout the world.