The administration of the Sisters of Mount Carmel has made the decision to close the ministry of the Carmelite Spirituality Center effective 12/31/2019.
In the months remaining, we will be offering several programs you may find helpful.
On October 19, 2019, we will offer a day of reflection on The Art of Letting Go.
Click on the link above to see more information about this program.
On November 16, our offering will be a program, Living in Hope.
Check back for more information about upcoming program.
We invite you to join us December 7 for a Farewell ritual and party.
Please check your email for information on the above programs which we will be sending in the months ahead.
You have a place in our prayers and we ask to be remembered in yours.
N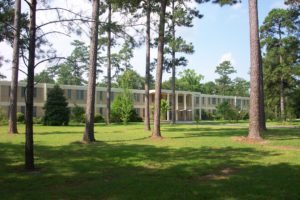 estled on 60 acres of beautifully landscaped grounds abutting Bayou Lacombe, the Carmelite Spirituality Center (CSC) is just 40 miles north of New Orleans. The Center gently beckons you to a wonderful refuge from daily life—a chance to slow down and reflect, recharge and renew your relationship with God, with others, and with your inner self.
Whether you seek to re-discover your inner spirit, renew your weary heart or re-energize your group, the CSC is a perfect setting for those hungering to act from their center. All are welcome to join us on their spiritual journey. In addition to programs offered by the Center staff, the Center offers hospitality to adult individuals and groups of all faiths who desire a tranquil place for faith-based gatherings and retreats.
The Carmelite Spirituality Center is a ministry of the Sisters of Mount Carmel.