by Sister Lawrence Habetz, O. Carm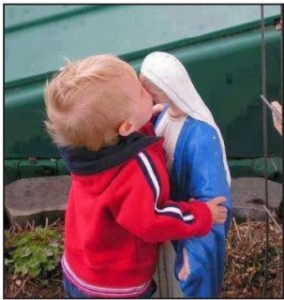 When I first began teaching, I was always looking for prayers to begin class and stories to add to my religion class. One day I came across a story in the Reader's Digest
about a family whose mother had made a cake on September 8, "Happy Birthday, Mary" to honor the Blessed Virgin Mary. The daughter cut a piece and brought it to the statue of Mary and tried to place a piece of cake in Mary's mouth. How real Mary was to her!
Although Scripture does not record her birth, it is in a second century apocryphal writing in the Protoevangelium of James. Te church celebrates Mary's birth on September 8, nine months aſter the solemnity of her Immaculate Conception, December 8. Mary's birth is a feast to celebrate since it is a sign that the Redemption is near.
Let us celebrate Mary's birthday as we celebrate also 181 years of our Founder's Day. Happy Birthday, Mary and Happy Birthday, Sisters of Mount Carmel.