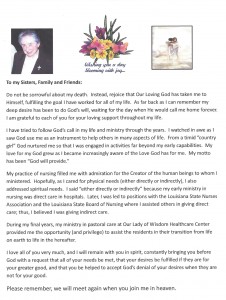 Sister Lucie Leonard's Funeral Farewell
Today we welcome you to the celebration of the long and full life of Sister Lucie Leonard, her 88 years here, as we send her to her glorious life with the Lord, her God.
Sister Lucie was the second of ten children. We remember her deceased parents Elvain Joseph Leonard and Bertha Marie Gaubert Leonard; her deceased sister and ours, Sister Bertha Leonard; and her three deceased brothers: Herman, Francis, and Donald.
We welcome in a special way members of her family: Cecilia (Mrs. Norbert Richard) of Thibodaux, Lorraine (Mrs. Eugene Folse) of Houma, Shirley (Sister Anne Leonard) of the Sisters of Mount Carmel, Miriam (Mrs. Gilbert Esteve) of Thibodaux, and Gerard Leonard, also her Godchild and his wife Miriam of Lockport.  We also welcome her many relatives, friends and her Sisters in Carmel.
How does one cover such a long, full life? Our congregation lists six pages, single spaced of workshops, conventions, committees, chairmanships, and organizations in which Sister Lucie was involved. Sister Lucie devoted over 60 years to nursing. She was a nurse, par excellence! She began her nursing career as a student at Our Lady of the Lake & LSU Nursing School in 1948. She served at our St. Joseph Hospital in Thibodaux, Carmel Hospital in Kaplan, and at Mercy Hospital in New Orleans.
Sister Lucie served as Louisiana State Nurses Association Director of Continuing Education, nursing practice consultant, and continuing education program manager; she was the congregation liaison and clinical representative for Our Lady of Wisdom Healthcare Center and Pastoral Care Assistant for Our Lady of Wisdom until her death. She loved OLOW and she loved ministering here.  In addition, Sister Lucie taught for two years at St. James Major and served as congregation councilor for two four-year terms.  She celebrated her 60th jubilee of vowed life in 2007. While on the council we often broke out into laughter. It was Lucie's quick, dry wit that caused the laughter.
Sister Lucie received many awards throughout her life: from the American Legion Award in high school, to being installed in Halls of Fame: Our Lady of the Lake, Bayou District Nurses, and the LSNA Hall of Fame. She was selected as one of the "100 Great Nurses," and was "Nun of the Year" in 2003. In 2013 she received the LeadingAge award for her outstanding contribution to the elderly. At 86 she designed a Spirituality Kit for each nursing station at OLOW to assist the nurses and aides with assisting the dying.  Still being the creative nurse, concerned with others rather than herself. That was Lucie! In previous years, Lucie also volunteered here for over 2000 hours. Wisdom was her love. Recently when a Eucharistic minister brought her communion, she told Lucie to "Breathe in Jesus, breathe out Jesus." Lucie said to her, "I know it another way: Breathe in Jesus, breathe out Lucie." What holy wisdom!
Sister Lucie gave a presentation to senior nursing students entitled: Spring Into Nursing; Mirror on the Wall: Am I Faithful To My Call? Today, we answer with a big YES.  You have been faithful to God's call to religious life in Carmel and to your special call to the nursing profession.  In that presentation, Lucie said, "An old African Proverb says, "When an elderly person dies, a library is lost."  I would like to pass on some of my "library" to you, the younger generation, who will carry the torch of nursing into the future."  Lucie has mentored and inspired so many in the nursing profession.
When Sister Lucie was first diagnosed with cancer, Sister Beth Fitzpatrick was sitting with her, waiting to receive her first chemo treatment.  Sister Lucie told Beth that she had written a letter to her family, the sisters, and friends to be distributed at her funeral.  Glenn Ducote, Sister Levy's nephew and friend, John Stallings, will be distributing the letter as you leave today, as requested by Sister Lucie and carried out by Sister Beth.
Special thanks to Our Lady of Wisdom Healthcare Center for bringing so much joy into Sister Lucie's life and for allowing us to celebrate Lucie's life where she so enjoyed life.
Thanks to her care-givers: Sisters  Anne Leonard, Gerard and Miriam Leonard, Francesca Truxillo, Donna Girard, Lee Faszold, Lena Collins, Maggie Williams, Beth Fitzpatrick, Catherine Riggs, Denis Rodrigue, Mary Ellen Wheelahan,Germaine Lauzon, Thérèse Grégoire, her doctors and nurses at E.J. Hospital and her doctors, nurses, aides, sitters, administration and staff at Our Lady of Wisdom, a place she revered. Special thanks to Sister Jerome, a sister of the Immaculate Conception, who faithfully visited Lucie. She told me, "Lucie is not here for her; she is here for us. I am taking notes from her." Thanks to Sisters Paula Marie Derise and Catherine Riggs, for coordinating the liturgy and visitation. Lucie will be missed by many. May she rest in peace. We thank all of you for coming today and we invited you to follow the cortege to the Interment at St. Louis No. 3 Cemetery in New Orleans on 3421 Esplanade Avenue, for your GPS! Please stand and greet our presider, Father Doug Doussan, from the Archdiocesan Retreat Center.  Join in the opening song, "How Great Thou Art."