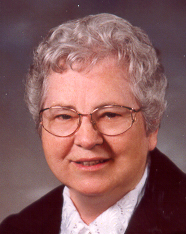 Sister Rose Aimee Breaux, O. Carm., formerly known as Sister M. Thomas Breaux, a Sister of Mount Carmel, principal and teacher, died Friday, May 23 at Evangeline Oaks Guest House, Carencro, LA.  She was 95 years old, and in the 75 th  year of her religious profession.
Sister Rose Aimee was born on April 7, 1919 in Broussard, LA to Ovey Paul Breaux of Broussard, LA and Marie Martha Billeaud of Breaux Bridge, LA.  She entered the Congregation of Our Lady of Mount Carmel on Sept. 6, 1936 and received the habit of the Sisters of Mount Carmel on Aug. 3, 1937. Two years later she made her first profession, and pronounced perpetual vows on Aug. 3, 1942. She celebrated her 70th jubilee in 2009.
Sister Rose Aimee graduated from Mount Carmel Elementary and Mount Carmel High School in Lafayette, LA. At Loyola University  in New Orleans, LA she majored in Upper Elementary Education, received her Bachelor of Science degree in 1954, and her teaching certification in 1955.  Devoting over 50 years to education, beginning in 1939, she taught at Mount Carmel schools in Lafayette, New Iberia and Thibodaux, LA and at St. James Major in New Orleans, LA, and St. Joseph in Rayne, LA. She served as teacher and principal at St. Joseph the Worker in Marrero, LA,  St. Dominic in New Orleans, LA, St. Joseph in Ames, LA and Our Lady of Prompt Succor in Westwego, LA.  Sister Rose Aimee served in Queen of Peace Parish in Lafayette, LA where she visited with the elderly and shut-ins. In 1988 she was recognized for Outstanding Achievement by Lafayette Parish Old Worker Force. From 1994-2000 she served in a ministry of presence to parishioners of Rayne, LA. Sister retired in 2002 and moved to the Motherhouse in New Orleans.  In 2005 after Hurricane Katrina, she lived at St. Leo Convent in Lafayette where she remained until 2009 when she moved to Evangeline Oaks Guest House in Carencro, LA.
Sister Rose Aimee was preceded in death by her parents, four brothers, Lawrence Edward, Charles Sidney, James Hubert and Paul Raymond Breaux and three sisters, Marie Lucille Breaux Landry, Mary Ruth Breaux and Sister Maria Llewellyn Breaux, O. Carm.  She is survived by one brother Thomas Alfred Breaux of Youngsville, LA.  A Mass of Christian Burial was celebrated at Martin and Castille Funeral Home Tuesday, May 27th.  Rev. Msgr. Robie Robichaux, pastor of St. Leo Church, Lafayette was celebrant. Interment is at  St. Louis No. 3 Cemetery, 3421 Esplanade Avenue, New Orleans, LA 70119 on Wednesday, May 28, 3:00 p.m..