The Twomey Center for Peace Through Justice
Loyola University New Orleans
NOVEMBER 2014
That All May Have Food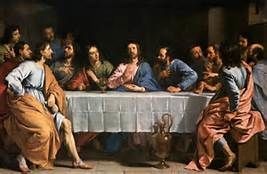 While the amount of food currently produced in the world is enough to feed everyone, we face transportation, distribution and, most importantly, serious access problems. If food is not produced in the proximity of the consumer, the cost of production and transportation makes it inaccessible to the poorest. On the other hand, each culture has its own eating habits, which entails a wealth of human diversity whose very existence is currently threatened by industrial agriculture and its monoculture-based production system.
When Jesus says, "I came so that they may have life, and have it abundantly" (John 10:10), it's more than just the physical life he's speaking about. He includes the spiritual existential dimensions of life. Life in its fullness is something that is overflowing; there are no limits for this as there are no limits for the grace of God's love. This is reflected in John 6 where Jesus feeds the five thousand and later says, "I am the bread of life."
When we talk about Food for Life, we too must include the fullness of life. The vision that the whole of humanity gets access to adequate, safe and nutritious food must be reached! The vision is also for everyone to get control over the food supply, so it's about empowerment. Since there is enough food in the world to feed everyone, it's obvious that food insecurity is the result of injustice. Some take more than they need, at the expense of others. It is as though the meaning of "abundantly" has been interpreted to mean a life in material affluence for some, rather than as a vision of Food for Life, for all. When we talk about Food for Life, it is crucial that we, like Jesus, include both food for the body and food for the soul. The two are inextricably linked to each other. In our search for a just world, we have to deal with them both.
God gives life, not just once in creation, but again and again in every meal. Food is a central theme in the Bible that Jesus connects to during his life. In his loneliness in the very last and darkest evening of his life he invites the disciples to supper, a supper that in the growing church will become a meal of joy. Through plain ordinary bread and wine God's presence is revealed not just for the disciples present, but also for everyone sharing wine and bread in all times.
FOOD INSECURITY IS NOT JUST A MATTER OF INJUSTICE BETWEEN THE POOR AND THE RICH, BUT ALSO AN ISSUE OF POWER
A plain supper becomes a political manifestation of the early church. Those with power were worried about people who gathered and shared bread as equals. The supper was a demonstration of every human being's dignity and equal value, regardless of people's background and rank. Meals were not empty events but a proper sharing of food as a pattern for the rest of daily life. This was seen as a threat by those in power through the injustice and violence of the Roman Empire. The early church was persecuted for these suppers.
Food insecurity is not just a matter of injustice between the poor and the rich, but also very much an issue of power. Different groups are being discriminated against due to gender, ethnicity, caste, religion, class, etc. This becomes clear in the fact that women in every society are those suffering the most from food insecurity, since they are the poorest. They are doubly exploited, both by being economically weak and being subordinated in society. They therefore have the weakest possibilities to handle crises such as poor harvests and the weakest possibilities to control and form their own situation in a long-term perspective.
IN GENERAL MEN ARE THE RICHEST AND WOMEN ARE THE POOREST.
In general men are the richest. They are those who consume the most and those who own and control food production and distribution.
Being unable to feed yourself and your family also means being marginalized and stigmatized. When Jesus meets people he re-establishes their dignity. He treats us as subjects, able to re-gain power over our daily life. In our commitment to food security issues, human dignity must be a starting point. We need to meet each other as right-holders and subjects in our own life and development, not reduce each other to objects for others' kindness and charity.
In our Judeo-Christian tradition food is a central theme. When Jesus prays "Give us today our daily bread" he reveals a double time perspective (Luke 11:3). In the texts of creation, we find harmony and order. It's almost taken for granted that the earth provides food for everyone. Shouldn't God nurture God's creation? (Psalm 104:12-14, 27-28). When evil takes a grip on humanity and harmony is lost, it also affects our food supply. There is still enough for everyone, but some take what they want at the expense of others. In Jesus' prayer for bread he prays that this should be corrected, here and now. But in the prayer Jesus also gives us a vision for the future. In the meantime, the vision is to be realized by the sharing of bread. Sustainable development is only achievable when long-term human need is satisfied without threatening the resource base on which future generations depend. As Christians we are called by Jesus to pray and strive for daily bread and bread for the coming day. We should then be the first ones to raise our voice in society for a sustainable development that embodies the long-term perspectives that we already confess in our Christian belief.
Food security is a matter of global justice. Patterns of consumption as well as models for production and global trade must be reversed. The problem of food insecurity is in many ways also closely linked to the growing culture of consumerism. The promise of satisfaction through consumption is given to individuals. And the picture of humans as individuals always searching for self-fulfillment is carried globally by consumerism. This belief in humans as independent of nature and of each other is devastating global development. We as Christians believe that we are created by God to live in communion with each other and with the rest of creation. As churches and faith-based organizations we must therefore counter the growing culture of individual consumerism and contribute to sustainable development. If we practice a just stewardship based on the deep understanding of being created in communion with creation, we could provide adequate and nourishing food without damaging fragile ecosystems. We as churches and faith-based organizations must not be passive and watch people suffer from lack of access to adequate, safe and nutritious food. We must ensure that in our own work we do not contribute to supporting this unfair system.
Living in communion with others and creation also gives us the strength we need to be able to take the responsibility that God has given us. Only when we gather and work together will we manage to reach or vision of food for all. Our stewardship must be carried out as a global community. If we as a worldwide church join hands to advocate for policies and practices of governments, international organizations and agribusinesses for a world without hunger, we will move mountains! To believe in a global communion also creates a feeling of belonging that is necessary for every human's well being. Living in communion gives us the possibility to receive food for life, abundant life, both in material and existential ways.
(Food for Life, A Theological Paper, Ecumenical Advocacy Alliance.)
A U.S. SCANDAL
The U.S. childhood poverty rate hit its highest level in 20 years back in 2010 and it's showing no signs of letting up. More than 16 million American children live in poverty — a staggering reality that leads to devastating health risks, in addition to overwhelming economic disadvantages.
The number of homeless public school students enrolled in grades K-12 hit a record high during the 2012-13 school year when an estimated 1.3 million students were homeless, according to a recent U.S. Department of Education report. These kids' test scores are falling and they're at a higher risk for sex trafficking, abuse and hunger. But even those who have a chance to escape are often rejected because of their impoverished backgrounds.
According to a recent Sports Illustrated investigation, more than 100,000 homeless athletes play on youth, high school and college teams. And many talented students who are skilled enough to get sports scholarships are turned down because they are considered "risky" investments.
These figures may actually be understated and even many of the children counted don't qualify for services from the Department of Housing and Urban Development (HUD) because they may be living in someone else's home or in a motel. The Homeless Children and Youth Act, which was introduced in July, would broaden the definition of a "homeless person" to include those who are verified as homeless through a number of advocacy programs. It would also eliminate the cumbersome documentation process that requires young people to "prove" that they are, in fact, homeless.
One in four children live in a food-insecure household. Children who struggle with hunger are more likely to get sick and endure impeded emotional, physical and intellectual development, according to a Feeding America study. Ironically enough, they're also at a higher risk of becoming obese since cheap fast food is more affordable that healthy, nutritionally dense options.
The situation grew particularly grim after last year's sequestration cuts. Both Supplemental Nutrition Assistance Program (SNAP) and Special Supplemental Nutrition Program for Women, Infants and Children (WIC), which serve millions of children, were subjected to severe cuts. WIC alone, which helps 7 millions kids, lost more than $354 million from its child nutrition programs.
Contact your members of Congress and ask them:
Congress where is their conscience? Where is their compassion? How are their actions benefiting the future of the United States? Let them know that their actions speak louder than their words.
Capitol Hill Switch Board – 1-800-826-3688
Published eleven times a year by
Bread for the World Louisiana
Founded in 1982
Bread for the World New Orleans
The Twomey Center for Peace Through Justice
Loyola University New Orleans, Campus Box 12
New Orleans, LA 70118-3565
504.864.7434
504.864.7438 ~ FAX
jfremson@loyno.edu
WWW.GLOBALNETWORK4JUSTICE.ORG
Publisher ~ Jane F. Remson, O.Carm.
Editor ~ Mary Blaise Fernando, O.Carm.
Opinions expressed in
Bread for the World Louisiana are the author's
and not necessarily representative of
Loyola University New Orleans or
Bread for the World