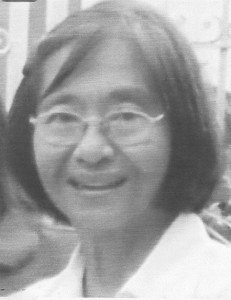 Sister Angelica "Angie" Donado, O. Carm., born Vilma M. Donado, a Sister of Mount Carmel, died February 16 in Manila, Philippines. She was 76 years old, and in the 50th year of her religious profession.
Sister was born on Nov. 16, 1937 in Cavite City, Philippines to Manuel Mata Donado and Victoria M. Maristela. She entered the Congregation of Our Lady of Mount Carmel on Feb. 4, 1962 and received the habit of the Sisters of Mount Carmel Aug. 6, 1962. On Aug. 5, 1964, she made her first profession, and pronounced perpetual vows Aug. 1969 in Dumaguete City, Philippines.
Sister Angie attended Cavite High School, Cavite City, Philippines, received a Bachelor of Science in Education from St. Thomas University, Manila, Philippines and a Master of Arts in Literature from San Carlos University, Cebu City, Philippines.
Sister taught at Mount Carmel Elementary, Abbeville, LA and Dumaguete Cathedral College, Dumaguete City. She served the Philippine Region as Formation/Vocation Directress while serving in parish social services. In the late '70's Sister was chaplain at Makati Medical Center and Chinese General Hospital, Quezon City. She served on the Philippine Regional Council from 1985-1992. From 1981- 2000 she served as pastoral worker at Immaculate Concepcion Parish in Marawl Prelature, Mindanao. In 2000 Sister Angie was awarded a certificate of appreciation for her work in recognition of her humanitarian mission through disaster response to the displaced civilians in Mindanao. She spent sabbatical time at Blessing Place, Lacombe, LA in 2001-2002. From 2003-2005 Sister Angie was the Stewardship Coordinator at the Socio Pastoral Institute. In 2007-2008 she served as assistant to the Formation Director. Prior to her death she was the resource person on healing and health and lived in Fairview, Philippines.
Sister Angie was preceded in death by her parents and her sister, Lina Donado Estrella. She is the eldest of three children and survived by her sister, Ema Donado Reyes Novaliches of Quezon City, Philippines. Visitation was held at Arlington Funeral Home, Manila. A Mass of Christian Burial was celebrated at the Sisters of Mount Carmel Convent Chapel, Fairview Feb. 21. Burial was in Serenity Memorial Park, Quezon City, Philippines.