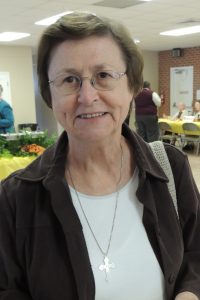 Sr. Donna Girard, a native of New Iberia, LA., is a graduate of Mount Carmel High School in New Iberia. Before entering the Congregation of Our Lady of Mount Carmel, she spent several years in the business world. As an affiliate, she worked in the high school office in New Iberia.
As a senior novice, Sr. Donna began training for respiratory therapy. After completing the certification program at Ochsner Health Science Center in New Orleans, LA., she continued her studies at the University of New Orleans and successfully passed written and clinical exams to become a Registered Respiratory Therapist. Her thirty-year career as a respiratory therapist was spent at Ochsner.
Initially, Sr. Donna was a floor therapist seeing patients throughout the hospital. She soon moved to the Neo-Natal Intensive Care unit where she had the opportunity to interact with the families of the infants she was treating. Because of the prolonged contact with only a few patients, relationships could develop over the weeks and months while the infants were in the NICU. Knowing she was a sister, she was often called upon to baptize infants. The years in the NICU provided numerous opportunities to minister to the infants, their families and her co-workers.
In the late 1980s, Ochsner was the only hospital in the region that performed Extracorporeal Membrane Oxygenation (ECMO) procedures on newborns. As a result, newborns from Washington, DC, to New Mexico and other parts of the country were transported to Ochsner and Sr. Donna served on the transport team. Newborns were transported via ambulance, vans, helicopters, fixed wing planes and small jets. Many were the harrowing experiences Sr. Donna recounts about flying through storms to pick up a newborn. She vividly recalls one pilot so grateful that they landed safely that he disembarked and kissed the ground when they landed.
Among her most treasured memories is meeting a young man who had been one of her patients in the NICU and the first time she was present at the birth of a child.
Her final years at Ochsner saw her return to floor duty throughout the hospital. Interaction with co-workers was different from during her NICU years but she still had the opportunity to be asked to pray for and pray with others. For Sr. Donna, respiratory therapy was a ministry; her path for sharing Carmelite spirituality and the charism of the Sisters of Mount Carmel.
Even though she is retired from respiratory therapy and Ochsner, Sr. Donna still ministers in healthcare as a volunteer. She regularly spends time in the NICU of Children's Hospital in New Orleans, LA. She says:
"My role is to hold and rock crying infants and infants whose parents are unable to visit frequently because of long distance travel or because of family matters where other children are involved. Holding a tiny baby in my arms is such a comfort to me. The personal touch of one so small and being held in a cuddling position can bring the baby calmness and a certain feeling of security that are much needed for healing. This quiet time in silence is my prayer and is also an awareness of God's little innocent, helpless life which gives me a feeling that I am needed."