A phrase sometimes used by authors today is "living a purposeful life." That is what comes to mind when I think of a charism. Our charism of service supported by our prayer life is purposeful living. Regardless of one's ministry, the sharing of our charism is simply following in the footsteps of Jesus which was foremost a life of service to others. Putting oneself at the service of others without counting the cost is to me "purposeful living."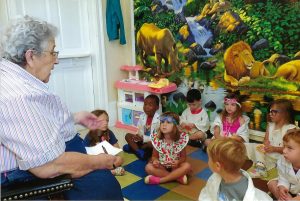 I am presently teaching Spanish to the three (3) year olds at Cub Corner Preschool, our day care center here at the Motherhouse. We have, in a good way, a symbiotic relation, in that we learn from one another. They delight in learning new words which may sometimes sound funny to them, like "cucaracha." I, in turn, learn so much from them. Through them I am often reminded of what it means to be simple, honest, transparent, vulnerable, joyful and innocent. My experience with these innocent and beautiful souls helps me to understand the words from the scripture as described in Matthew 18:3, "unless you are converted and become like children you will not enter the kingdom of heaven," these words are now clearer to me.
As a member of a community, I consider my position as a member among those with whom I live, a wonderful way to live out our charism. Service in the best form is a witness of all we stand for. Sister Thérèse Chevrel said, "To love one another means to uphold one another, to help one another, to esteem one another, to make one another happy, to look after one another, to please one another, to lead one another to heaven." As a community member we witness to one another as we pray, share meals or recreate together.
In the workplace in general, whether at the grocery store, church, or wherever we meet people, a smile, a greeting or any polite gesture can bring a moment of joy to one another. This too is a form of service.