"The special charism of the Congregation is an orientation to a life of prayer and service in union with Jesus,
in whom continual prayer and action can exist harmoniously."
(Constitutions and Directives, Identity, 2)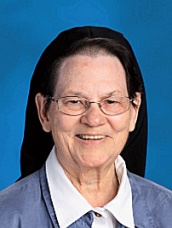 Over the past 68 years, I have served God as a classroom teacher, a principal, a religion coordinator, and a prayer moderator. Though recently retired, I continue to be of service to others. Weekly, I bring Communion to the residents at East Ridge Assisted Living here in Abbeville, sharing my love and comforting them with the Eucharistic presence of Jesus. These elderly folks really appreciate this gift.
As a longtime member of St. Mary Magdalen Church Choir, I practice weekly for our Sunday Eucharistic Celebration. Participating with the choir helps me share my voice by praising God through music.
One of the many joys of living in Abbeville has been "bumping into" a number of former students. Though I am very happy to see them, I often have to ask for their name.
With God's help, I hope to continue witnessing to our Savior's great love.