"Do whatever He tells you" -John 2:5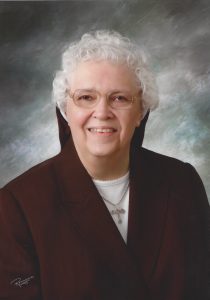 We are all familiar with Mary's command to the servants, "Do whatever He tells you." I reflect on that scripture often because, in leadership, I need to be willing to do whatever Jesus tells me, whether I fully understand or not.
In the Congregation of Our Lady of Mount Carmel, I am beginning my thirteenth year in leadership serving as assistant to presidents Sister Ursula Diasselliss and Elizabeth Fitzpatrick for four years each, then serving as president from 2013-2017. April 29 I began my fifth year serving as president until 2021.
Including the young women in initial formation, the Congregation is blessed with eighty-one members in the USA, Philippines, and Timor-Leste.
Unlike my fifty-two years of teaching when I knew exactly what I was going to teach each day, leadership brings new things each day and, even though plans are in place, I need to be ready to "do whatever He tells me."
Any day may bring the phone call of an illness or death of a Sister, repairs needing approval on a building, an email requesting prayers, an article to be written, thank you notes or letters, birthday or feast day cards, etc. In addition to any administrative tasks, the main purpose of leadership is to further the mission of the Congregation and to implement the Acts of our General Chapter in January which set the direction for the next four years.
I once received a fortune cookie which read, "Even if you're on the right track, you'll get run over if you just sit there." Leadership cannot "just sit there." We need to "Embrace the future with hope" as our Chapter theme recommended.
How do I spread Carmelite Spirituality and the charism of the Sisters of Mount Carmel? Whether one is in leadership or not, each Carmelite is to live out the Carmelite charism—the gift Carmel is to the Church. Father Glenn Snow, O. Carm. in Foundation Stones suggests three general ways to live out our Carmelite charism: 1. By living in God's presence, by "being with" God in all that we are and in all that we do; 2. By listening to God's voice, for God speaks to us words of comfort, words of challenge. How can we do what God tells us, if we do not listen to him? 3. By caring for God's people, using whatever gifts God has given us. Just as Elijah handed the mantle to Elisha, we, too, must be ready to hand over the mantle to those who come after us. We know that they will embrace Carmelite Spirituality and they will be willing to "Do whatever He tells (them)."