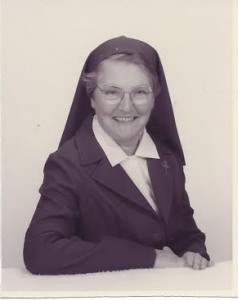 Sister Mary Hilary Hernandez, O. Carm., a Sister of Mount Carmel, principal and teacher, died March 17, 2014 at Our Lady of Lourdes Hospital, Lafayette, LA. She was 89 years old, and in the 72nd year of her religious profession.
Sister Hilary born, Rose Mary Hernandez, on Sept. 15, 1924 in White Castle, LA to Robert Hernandez of White Castle, LA and Marie Foret of Plattenville, LA. She entered the Congregation of Our Lady of Mount Carmel on Jan. 30, 1940 and received the habit of the Sisters of Mount Carmel Aug. 5, 1940. On Aug. 3, 1942, she made her first profession, and pronounced perpetual vows Aug. 2, 1946. She celebrated her 70th jubilee in 2012.
Sister Hilary graduated from St. Gabriel Elementary in St. Gabriel, LA in 1939 and from Mount Carmel Academy in New Orleans, LA in 1942. At Mount Carmel and Loyola University in New Orleans, LA she majored in Specialized Elementary Education and received her bachelor's degree, followed by her teaching certification, in 1963. Devoting almost 29 years to education, beginning in 1942, she taught at Mount Carmel schools in Abbeville, Carencro, Lafayette, LA and at St. Dominic in New Orleans, LA, St. Joseph the Worker in Marrero, LA, where she served as principal and at St. Joseph in Rayne, LA. She also served as principal at Our Lady of Prompt Succor in Westwego, LA. She served one year as a missionary with the Sisters of Mount Carmel in the Philippines. She also served the congregation as Novitiate Superior, Motherhouse superior, treasurer and dietary supervisor as well as maintenance manager in Lacombe, LA. From 1983 to 2001 Sister Hilary worked in parish ministry in St. Dominic Parish, New Orleans, LA until her retirement to the Motherhouse. Since Katrina Sister Hilary has resided at St. Leo Seton Convent, Lafayette, LA. Sister Hilary received the Associated Catholic Charities Outstanding Religious Award for service to senior citizens and the St. Dominic Seminar Citizens Award. In 1991 the St. Dominic Kaycee Auxiliary and K.C. Council 3729 tapped her as "Sister of the Year."
Sister Hilary was preceded in death by her parents, four brothers, Nolan, Robert, Jr., James and Charles Hernandez. She is survived by one brother, John H. Hernandez of Baton Rouge, LA and one sister, Lily Mae (Mrs. Ronald) Mandel of Sun City West, AR .
A Mass of Christian Burial will be celebrated in New Orleans at the Mount Carmel Motherhouse chapel Thursday, March 20 at 10:00 a.m. followed by interment in St. Louis No. 3 Cemetery.