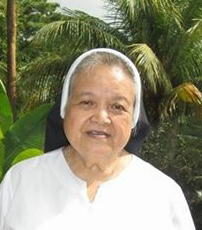 My desire to learn more about my religion was my main reason for seeking entrance with the Sisters of Mount Carmel.
The rule of the Carmelite also known as Formula for Living and its implementation in the structure and community life of the Sisters of Mount Carmel, challenged and inspired me to accept multi- tasking in my ministry. In the 1970's I was involved in the congregation-owned educational institution as well as taking an active role in the shaping of the Philippine Region, both in its infancy.
I have a degree in commerce, major in accounting, and several years of experience involved in the running of our family business, and thus my assignment was as a bookkeeper and treasurer. Later as I gained experience and the needs arose, I accepted more responsibilities.
After over 30 years in the said ministry, I finally had a change, not only in ministry, but in residence as well. My new and present ministry is in charge of our congregation-owned retreat center. Avila Kiosk, the name of retreat center, is located in Balugo, Dumaguete City, Philippines. The center was built to accommodate groups for retreats or gatherings at an affordable cost. Fees for the use of the place varies, a result of a dialogue with their organizers. My years of experience in my previous ministry and as a Carmelite religious, taught me how to dialogue, to listen, and respond to their needs.
I am happy being a Carmelite religious and happy in my ministry both past and present. This was agreed by my close relatives, associates and friends. They say, and I agree, I am growing in age gracefully and a person with a positive attitude.