Let all that you do be done in love (1 Corinthian 16:14). This Bible passage is a perfect reminder for me as I perform my new ministry in the foreign land here in the US. My calling and willingness to serve is truly rooted in my love for God defined through the people that I work with. I know that whatever ministry I am involved in, challenges and difficulties will set in. But I am also certain that there will also be new learning. I am positive that every step I make will be well taken care of by God. I am inspired to do new things for the ministry because I consider it as a special favor offered to me by God. I'm looking forward to further during the next four months immersion in Mount Carmel School of Abbeville.
My new ministry in school gave me good impression. I received a warm welcome and I felt a sense of belonging. I am glad gaining new friendships through those shared smiles and warm greetings. I am truly interested to know how things will work for me as I meet wonderful people in school especially that I am assisting the teachers in Pre-Kindergarten and Kindergarten classes. I enjoy being with the kids in pre kindergarten and kindergarten working as a teacher's aide. I feel blessed having been given the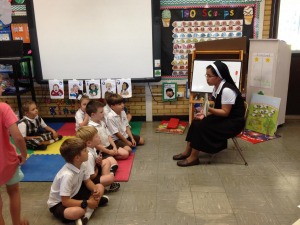 chance to observe each class from first grade through eighth grade. I appreciate the kind of discipline that they impart to the students. And I admire also the good sense of student and teacher interaction. It is also a grace- filled experience to learn teaching strategies of the teachers. I really appreciate the kind- hearted gestures of the students and the teachers having my presence with them. I savor the experience being with them because I learn something during my observation period. I realized that the ministry in school would be a meaningful and worthwhile experience for me. I recognize that those seemingly ordinary and simple moments have given me joy and gladness. Every day is always a learning process. Each moment has
taught me to appreciate the gifts of each one: the students, the teachers, and other school staff. I find joy being with the kids because they are teaching me to have a joy, a gentle, and a loving spirit. I believe that the children will teach me in all sorts of things. I realized how Jesus was delighted to be with children when He said, "Let the children come to me" (Matthew 19:14). The children are truly a gift and ministers of love. I was touched by the pureness of their hearts especially when we have the prayer service inside the chapel. I meet God through them. The routines of my daily tasks being with the kids have shaped me to show inclusive love. Indeed, the children add color and joy to my day to day experience in school.
The language may seem challenging for me at this time because of the different accent and expressions I have to deal with. But soon I will get accustomed to the language. I am willing to do the tasks given to me because I know this will help me grow more in my chosen vocation. And I believe that every service offered to others is a matter of the heart. I have to pour out my heart into it. I believe that my relationship to God is in accord with the relationship I have with His people. All the experiences integrate my community, service and prayer life. An Important lesson for me now is to live the grace at the moment, be grateful and be just a person that God wanted me to be.