Sister Josephine Deveras, O. Carm., a Sister of Mount Carmel, died August 27, 2014 at Our Lady of Wisdom Healthcare Center, New Orleans, LA. She was 78 years old, and in the 52nd year of her religious profession.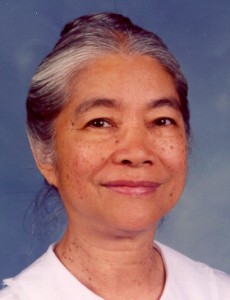 Sister Josephine born, Josefina Luna Deveras, on March 20, 1936 in Imus, Cavite, Philippines to Antero R. Deveras of Naga, Camarines del Sur, Philippines and Antonio Luna of Ligaro, Albay, Philippines. She entered the Congregation of Our Lady of Mount Carmel on January 15, 1960 and received the habit of the Sisters of Mount Carmel August 5, 1960. On August 6, 1962, she made her first profession, and pronounced perpetual vows August 6, 1967. She celebrated her 50th jubilee in 2012.
Sister Josephine graduated from St. Paul's University (elementary) in 1948, St. Joseph's College, Quezon City (secondary and college) in 1956 with a bachelor's degree in English, Notre Dame Seminary, New Orleans, LA in 1971, with a master's degree in Religious Education and completed her Postgraduate work at St. Louis University, St. Louis, MO in Religious Formation and Silliman University, Dumaguete, Philippines in Pastoral Education. In 1989 Sister became an American citizen.
Sister Josephine taught at Mount Carmel Academy, New Orleans, Cathedral Carmel, Lafayette, LA and Cathedral School in Dumaguete City, Philippines She also served the congregation as business administrator at Holy Child Hospital in Dumaguete City, Philippines, in novitiate, formation and retreat work in the United States and the Philippines, as infirmary assistant at the Motherhouse, New Orleans, LA and Indochinese social service for Catholic Charities. Since 1982 Sister has ministered to the Filipino people in the New Orleans and surrounding area and in 2005 joined the staff of the Carmelite Spirituality Center. Since 2013 she resided at Our Lady of Wisdom Healthcare Center, New Orleans, LA.
Sister Josephine was preceded in death by her parents, two sisters, Luz D. Doucette and Elisa Yao and two brothers, Antero Deveras and Col. Tomas Deveras. She is survived by two sisters, Anita Wong, Miami, FL and Milagros Dacayo, Quezon City, Philippines and two brothers, Jesus, Miami, FL and George Deveras, Quezon City, Philippines.
A Mass of Christian Burial will be celebrated Friday, August 29, 2014 at Our Lady of Wisdom Healthcare Center, 5600 General De Gaulle Dr, New Orleans, LA 70131. Wake will be held at 9 a.m. followed by rosary at 10 a.m. and funeral Mass at 11 a.m. Interment will follow in St. Louis No. 3 Cemetery.