I grew up in New Iberia, LA, and attended Mt. Carmel Academy in that town for my elementary and high school years. Three months after graduating from high school, I entered the convent, joining the Congregation of the Sisters of Mt. Carmel in 1966, professing my first vows in August, 1969, receiving a Bachelor's degree in Education in 1972, and professing my final vows in 1974.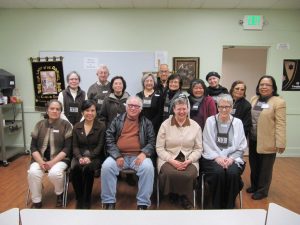 I taught school in various places in south Louisiana for about 25 years, until July, 1998. At that time I moved from Louisiana to Darien, IL, (in the western suburbs of Chicago) to begin ministry with the Lay Carmelites. Lay Carmelites (a.k.a. Third Order members) are lay people, both men and women, who have discerned a vocational calling to live out their Baptismal commitment by following a way of life based on Carmelite spirituality. They join established Lay Carmelite Communities. These communities meet once a month to offer continuing support to each other through community prayer and study of the Carmelite way of life. There are over 200 Lay Carmelite Communities connected to the Province of the Most Pure Heart of Mary, scattered throughout the United States and Canada.
In any given year, I drive approximately 30,000 miles to various parts of the country and Canada because my main ministry is to visit each community periodically, offering support and guidance in their Carmelite vocation. Every Lay Carmelite community will get a visit every 2 or 3 years. When I am not traveling, I am busy in the Lay Carmelite Office, usually planning and mapping out my next visitation trip. Though a lot of my time is spent "on the road" it is always good to get back home, and settle back into the rhythm of life in community with Sr. Mary Martin, who has recently retired from active ministry in the Lay Carmelite Office.
I feel very blessed to serve in this ministry. These good people have been such a gift in my life. I am called daily in very concrete ways to share the Carmelite way of life with others and have been so enriched and inspired by the witness of faithful living out of Carmelite spirituality in the lives of the Lay Carmelites with whom I have been privileged to work during these 18 ½ years. My own vocation to Carmel as a vowed religious has expanded and deepened, and for this I am very grateful.