Sr. Odile Theriot serves at St. Leo Convent in Lafayette. As community coordinator, she is a caregiver of elderly sisters who live there, chief cook and purchasing agent and liaison between the sisters, the parish and the school. She has filled a role of hospitality as our home is often mid-way to the West and East as sisters travel. Overnight stays are a steady in our home. "Zookeeper" is the affectionate title given to her as our coordinator, as she has cared for a motley crew – good, but motley—through the years.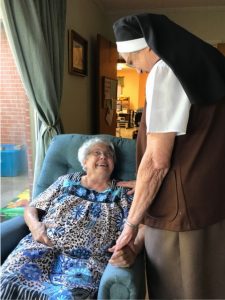 Under her care, the sisters have health needs taken care of, a neat and comfortable home, and good food that nourishes body and soul. Our chapel and home are used for various congregation meetings and socials under her coordination. Our community prayer life, recreational needs and family contacts are part of the concern she offers to the sisters. She has been a presence of all of the sisters to the school children and faculty, the parishioners of St. Leo, and friends known to the sisters through the years.
Sr. Odile is truly a "community" person – daily Mass when possible, evening Liturgy of the Hours, family meals at breakfast and noon which keeps us together as a community of religious women. Awareness of the needs of some in our area in terms of food or money, gratitude to those persons in the area who have been so caring and generous to the sisters, is her priority. Though ministering to each other in our personal needs, an awareness of prayers needed for others, a sense of the broader community, our personal call to prayer, service and hospitality has always been before her personally and as a call to her sisters.
She may be a "zookeeper," but she's one of the best! Our zoo is doing well!