Through the donations of the Mount Carmel Elementary (Abbeville, LA) students, faculty and friends this past Christmas, the sisters in Timor-Leste prepared 800 packs of gifts for children ages 5 to 10 years old. Children from the four villages of Beilaco, Raemae, Haricain, and Oebaba received a gift with cookies, chocolates, lollipops and a bottle of orange juice. Along with their gifts of goodies each child was given a raffle ticket with equivalent prizes of either school supplies, like school bags, while others received shirts. The children were happy to receive Christmas cards as well. The sisters also prepared games for the children for their Christmas party.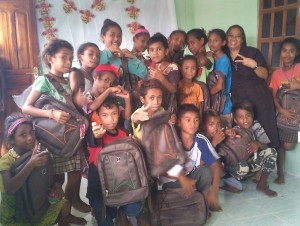 Most of these children are from the mountainous area of Timor-Leste and live in poverty and do not experience receiving gifts nor have the opportunity to even taste chocolates.  Through your financial support and generosity these poor children experienced the goodness and the generosity of God to them, despite the poverty around them. Your kind gesture of generosity might reach the wounds of these children who were victims of war, injustices, and poverty that only love and compassion can heal.
Again, from the bottom of our hearts, thank you! May God continue to bless each one of you and your family.