Two young women: Deonisa Periera and Marciana Soares joined the Sisters of Mount Carmel in Timor-Leste in their postulancy formation program.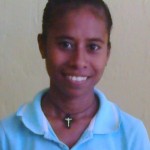 Deonisa Periera was born on April 16, 1992 by Mr. Silvino Goncalves and Mrs. Berta Periera. She came from Rae Udo, Lihu, Railaco, Ermera, Timor-Leste. She finished her secondary education from Escola Secundaria Catolica Nossa Senhora de Fatima. After finishing high school she attended vocational school at Ensino Technico Vocational. Deonisa joined the aspirancy program of the Sisters of Mount Carmel in Timor – Leste on January 12, 2015.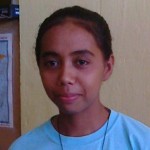 Marciana Soares is the daughter of Mr. & Mrs. Henrique Guterres. She was born on March 9, 1992 at Uiacana, Bado-Ho'o, Venilale Baucau, Timor-Leste. She obtained her high school diploma from Colegio Sao Miguel and took vocational courses from Ensino Technico Vocational. On January 12, 2015 she joined the live-in aspirancy program of the Sisters of Mount Carmel in Timor-Leste.
Sister Mailyn Batocabe, O. Carm., received them as postulants on May 30, 2015. The ceremony was witnessed by the members of their families, friends, Carmelite fathers and brothers, and the villagers from Beilaco, Zumalai, Timor-Leste. The two postulants received Our Lady of Mount Carmel medal and a bible. As they begin their postulancy program they will be taking courses on scripture, theology, spirituality, prayers and other courses that would help them in their continuous discernment to respond freely to the call of consecrated life. Sister Mailyn will be journeying with them as their postulant formator.