What Gift My Heart Needs?
By Sister Lawrence Habetz, O. Carm.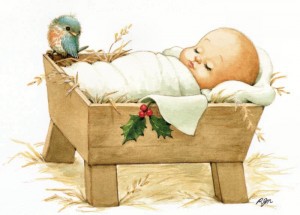 Christmas conjures up a variety of ideas to each of us. But to children, as well as adults, the idea of a Christmas gift is usually high on the list.
The gift of the Child Jesus to the world should be our most prized gift.  Joyce Rupp in her book, Fragments of Your Ancient Name, writes:
The Gift
Christmas presents. Gifts bestowed
And received. Maybe a surprise or two.
You, the Gift surpassing all other gifts,
Bring us more than we might expect.
Presents that did not make our list,
Something to wear on the inside of us
Such as truth, generosity, patience,
Reconciliation, and respect for one another.
Each Christmas, another gift of growth.
What will you gift us with this year?
As we approach Christmas 2014, let us think about what gift my heart needs, not what gifts I may receive. May Jesus be my most prized gift.