Facilities
The Carmelite Spirituality Center comprises 57.3 acres of beautifully landscaped grounds, located just 40 miles north of New Orleans in Lacombe. The accommodations at the Center include:
Dining Room
A glass wall provides a beautiful view of the patio and grounds. The dining room features a full-service kitchen where home cooked meals are prepared fresh and with love for all our guests. The goodness of our meals complements the beauty of the grounds. A full breakfast is provided. Lunch and supper meals include an entrée, vegetable, starch, salad bar, dessert and ice tea. Vegetarian menus are available. Special requests may be negotiated for additional fees. Fees are reduced if you provide your own food. An additional fee is required if the kitchen is used by the group to prepare the food.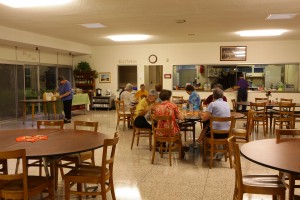 Patio and Grounds
Guests may prefer to dine outside under the pine trees or among the singing birds. Benches are available under the oaks or near the pond. The Center has a large swimming pool available to guests at their own risk, as no life-guard is provided. Guests are asked not to swim alone. Restroom and changing facilities are near the pool.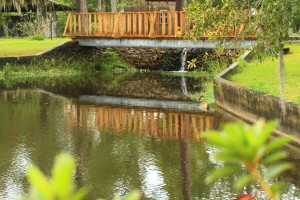 Meeting Rooms
The Center has several meeting rooms available for different sized groups or needs. A large meeting room provides theater or classroom seating for 60+. A classroom is available for 24. We have a large and a small parlor with carpeting and appropriate seating. WiFi is available, as well as TV-DVD and a projection screen.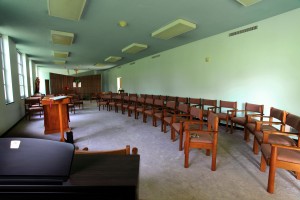 Chapel
Open to all faiths, our chapel provides a tranquil space for personal and communal prayer, comfortably seating 50+.
Occupancy
The Carmelite Spirituality Center can accommodate 64 retreatants. Additionally, a small Guest House can accommodate 1-2 persons, a larger Bayou House, 3-4 persons, and the Studio Apartment, 1-2 persons.